Extraordinary Sniffers
K9 Nose Work
®

Classes
Canine Scent Detection Classes
aEvery dog can be an extraordinary sniffer with K9 Nose Work®! Canine Scent Detection is a popular dog sport and a fun game to play with any dog! K9 Nose Work® classes bring the concepts of professional canine scent detection to pet dogs and their people in a fun and easy way. Your dog will develop their natural scenting ability through fun & games!
In classes you will learn to play scent detection games that will entertain and exercise your dog while your teamwork grows. Nosework can help your dog become an independent puzzle solver ready to find hides in a variety of different environments and setups and will leave them tired.

Throughout K9 Nose Work® classes dogs will learn about the four elements of searching: Containers, Interiors, Exteriors, and Vehicles. Dogs build their foundations searching for food (or sometimes toys) which makes the games easy to play at home; those that choose to continue with K9 Nose Work® classes will learn to search for essential oil odor (aka 'detect target odor').
K9 Nose Work® classes are open to dogs of all shapes, sizes, and temperaments. Each dog searches individually allowing even dog-reactive dogs to join in on the fun! Big dogs, little dogs, young dogs, old dogs, energetic dogs, calm dogs, pure bred dogs, mix breed dogs, rescue dogs, performance dogs, pet dogs, confident dogs, shy dogs, physically active dogs, physically limited dogs, even dog-reactive dogs can all play scent games! The list goes on and on!
Each dog searches individually and must be comfortable relaxing in their vehicle between searches. Human team members ("handlers") will be learning as they watch classmate's dogs search, so dogs will be left alone in the vehicle unless an additional friend or family member chooses to attend to stay in the vehicle. 
If your dog has a history of any human-directed aggression please get in touch to see if it's possible for your dog to participate in classes or to arrange private K9 Nose Work training.
Note there is a strict policy against corrective collars on site (eg. pinch/prong and electronic collars).
3 Benefits of K9 Nose Work
®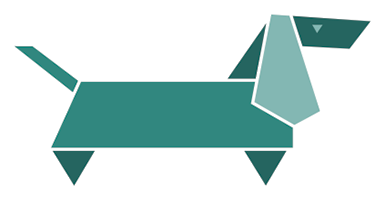 Builds Confidence
Timid and worried dogs really come out of their shell as they learn to play scent games.
Builds Focus
Energetic and 'crazy' dogs learn to focus their energy on a fun and rewarding task.
Low Impact Exercise
Searching makes dogs tired! An alternative way to exercise a high energy pooch and a fun activity for older or recovering canines.
K9 Nose Work

®

Classes in Langley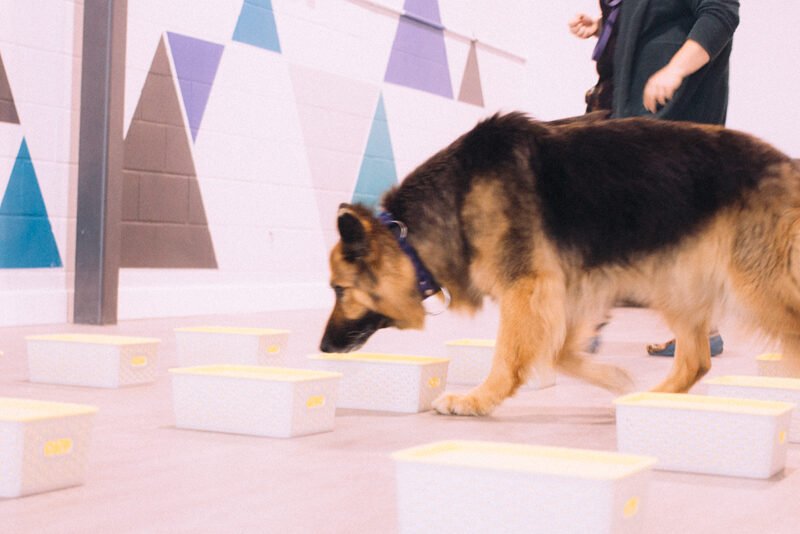 Intro to K9 Nose Work
®
Pt 1: Foundations
$290 +GST
8 Classes
New to scent detection? Start here! Your dog will learn the foundations of K9 Nose Work, building their drive to search, independent hunting skills, and, most importantly, they'll develop a LOVE for searching! Open to dogs of all ages, breeds, and temperaments.
No experience or prior training needed.
New Classes Starting January 9th
Mondays at 5:45pm
Wednesdays at 5:00pm
Wednesdays at 6:15pm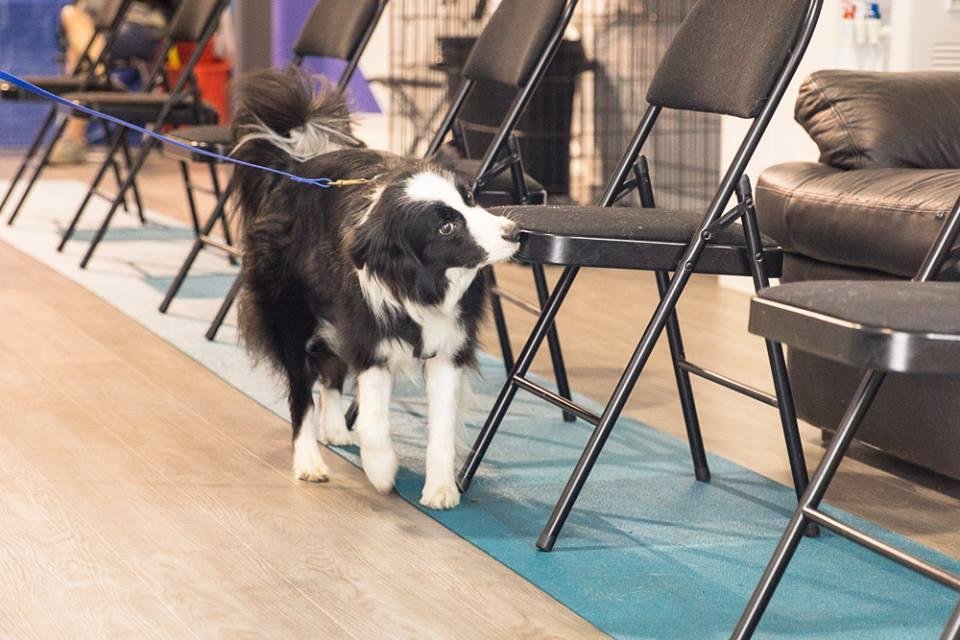 Intro to K9 Nose Work
®
Pt 2: Intro to Odor
$290 +GST
8 Classes
When your dog has a solid foundation and love for searching, we introduce them to odor used in scent detection sports.
They'll begin transferring their foundational skills in searching onto detection of essential oil odor.  All the fun of Intro to K9 Nose Work® with a fun twist.
Prerequisite: Completion of Intro to K9 Nose Work
New Classes Starting February 4th
Saturdays at 9:00am
Saturdays at 10:15am

Novice Continuing
K9 Nose Work
®
 $210 +GST
6 Classes
Continue to build the foundation of a great search dog and really build your teamwork with your dog!
This class is great for dogs who are just beginning to understand odor or teams looking to build motivation with novice level searches.
Learn new odors and new skills.
Dogs should be, at minimum, on Birch. 
Intermediate Continuing
K9 Nose Work
®
$210 +GST
6 Classes
Dive deeper with fun new detection puzzles and build your communication as a team!
This class is great for dogs who have a solid understanding of odor and are looking for intermediate level searches. 
Begin to navigate new challenges while also revisiting foundational skills with games and a variety of different search areas.
We begin putting more focus on handler skills at this level.
Dogs should be on Birch, Cypress, Clove, and Anise. 
Advanced Continuing
K9 Nose Work
®
$210 +GST
6 Classes
Adding new challenges like suspended hides, distractors, buried hides, higher elevations, inaccessible hides, and other more complex search challenges in addition to basic searches and games designed to build motivation and reinforce foundational skills.
Please contact Megan if you're interested in registering for this class to review your experience.
Dogs should be on Birch, Cypress, Clove, Anise, Wintergreen, and Pine. 
Scent Detection Trials in the Lower Mainland
 I wrote a nifty article comparing the different options available for playing Nose Work at the various trialing venues available here in Metro Vancouver and the Lower Mainland (+ NACSW). This is guide is geared toward beginners, but may be helpful to anyone involved in the sport of scent detection. Organization included: K9 ABC Games, CKC, C-WAGS, K9 SSG, SDDA, and NACSW.

Certified Nose Work Instructor
Your instructor, Megan Brooking, is a Certified Nose Work Instructor (CNWI™) with the National Association of Canine Scent Work (NACSW™). 
She has titled with her Finnish Lapphund, Brophy, in many local trialing organization including SDDA, C-WAGS, CKC, K9 SSG, CDSA, and ABC Games. She is also an approved C-WAGs judge and host.
While she takes a special interest in helping students interested in earning ribbons and titles in scent detection sport to reach their potential, her real passion for nosework is founded in the therapeutic benefits it offers to nervous and reactive dogs.
Megan welcomes and supports both competitive and recreational students into K9 Nose Work classes at all levels. Her coaching style is to provide a fair amount of feedback to handlers and offer critiques to push student handlers to be their very best.
Learn more about K9 Nose Work®
 & NACSW™
Our Facility
#106 - 5968 205A St
Langley, BC