Puppy Training
Senior Puppies: 4 – 10 months
In a blink of an eye our puppies grow from babies to teen puppies that bring a whole new set of challenges. By 4 months of age a puppy's sensitive period for socialization is at it's end and our focus shifts from confidence building and socialization and onto laying the training foundations. These foundations are what will ensure we have a well mannered dog that we can enjoy sharing our lives with for years to come.
You may have thought about doing "obedience" training with your dog, but you'll find that most modern trainers don't use the word "obedience" unless we're referring to the kind of training for formal competitions. We don't focus on having our dog "obey commands" (which is usually taught through force, intimidation, and even pain), but instead we're looking to establish a strong relationship with our dog where we motivate them through the use of rewards so that they enthusiastically want to follow our cues and in turn we also listen to their needs. 
We recommend our Canine Foundations class for senior and teen puppies as well as adult dogs with minimal prior training. There are no age requirements or prerequisites for this course! 
In Canine Foundations families will learn to communicate with their dog and provide the best life possible for them. We'll discuss troubleshooting basic problem behaviours and show you how to teach manners and behaviours like Settling on a Place, Sit/Stay, Down/Stay, Come When Called (Recall), Polite Walking Manners (Loose Leash Walking), Leave It, Waiting at Doors, and much more.
Our goal in the Canine Foundations course is to give you the pieces you need to start your training journey with your dog, but also the knowledge and understanding of the concepts behind the training so that you can take these foundations as far as you'd like to go.   
Our Canine Foundations class is offered strictly as an online course, however, families looking for in-person classes can also enroll in Puppy Foundations Live which adds 6 in-person classes that follow along with the online components covered in Canine Foundations. 
Puppy 101
$25 | ONLINE COURSE
By four months old most families have made great progress on potty training and the puppy biting phase is near it's end, but our online Puppy 101 course can help you out if those topics are still on your radar.
Puppy 101 covers the topics of introduction to puppy raising, socialization, potty training, and puppy biting.
Canine Foundations
$85

| ONLINE COURSE

$68 EARLY ACCESS OFFER*
AGe/Vaccination REQUIREMENTS:
START ANYTIME – LEARN AT YOUR PACE
This online course is structured into 6 Weekly Units, but families will have access to the course for a full year and can learn at their own pace. There is no specific start date. You can start as early as NOW!
GET SUPPORT THROUGH THE PORTAL
Send messages to the trainer directly through the course and ask questions when you have them!
EARLY ACCESS OFFER
There are a few lessons in the course that are incomplete. We are offering a discount to those that enroll before the full course is uploaded! Your enrollment still gives you a year's access and you will have access to additional lessons as they are completed. Anticipated full course completion by January 2023. 
Puppy Foundations Live
$220 | CANINE FOUNDATIONS ADD-ON
6 IN-PERSON SESSIONS: 1 GROUP ORIENTATION + 5 GROUP COACHING CLASSES
PREREQUISITES:
Enrollment into Canine Foundations online course.
Families may start Canine Foundations at any time (weeks or even months before attending Puppy Foundations Live). During the 6 week in-person course families are required to prepare for weekly sessions by following along with the weekly lessons in the online Canine Foundations course ahead of time and start working with their dogs on the week's new behaviours before they attend their in-person class.
AGe/Vaccination REQUIREMENTS:
Puppies must be fully vaccinated (Rabies, Parvo, Distemper) before the first group coaching class. Puppies must be under 10 months old at the start date.
TOPICS COVERED:
These classes are designed for practicing the skills learned in the Canine Foundations course and receiving coaching and troubleshooting tips in-person. Classes also include some Q&A time to discuss problem behaviours.
See the top of this page for some of the topics covered in Canine Foundations.
Puppy Foundations Live
WHY DO WE OFFER A HYBRID COURSE?
HYBRID FORMAT: ONLINE & IN-PERSON
We love the hybrid format of our Puppy Foundations classes! It is incredibly difficult for both the humans and the dogs to try learning in a busy group class setting. By combining our online course with in-person classes we get the best of both worlds!
We have noticed a huge increase in positive results since moving to the hybrid format. Both humans and dogs are achieving much greater success and learning even more than in our old traditional format of exclusively in-person classes. 
HYBRID FORMAT: BENEFIT FOR HUMANS
Humans often struggle to listen to instruction in a group class as they are distracted by their dog. Learning at home allows people to watch the lessons when they can give it their undivided attention. Then they can start implementing the training at home, but still have an opportunity to receive coaching in the group class each week.
HYBRID FORMAT: BENEFIT FOR DOGS
Trying to teach your puppy a brand new behaviour in a group class is much like teaching someone to drive for the first time in traffic on the freeway — it's incredibly difficult for the learner to be successful. So we developed a way to set up your puppy for success by allowing them to learn new skills at home so they already have some understanding of the exercises before we expect them to work around distractions.
Puppy Foundations Live will be running Tuesdays at 7:00pm starting February 26th!
Sneak Peak at Canine Foundations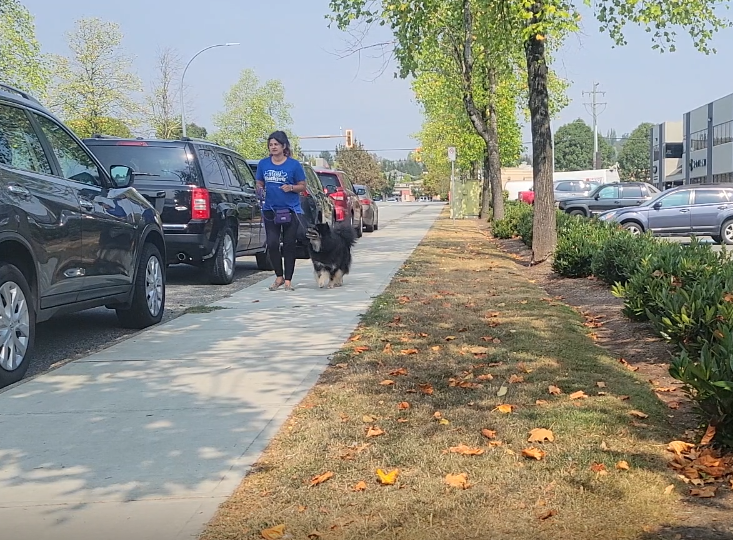 Our Facility
#106 - 5968 205A St
Langley, BC