Raising a puppy can be a big challenge but with Extraordinary Canines you'll be off to a great start so you can take advantage of this precious time. You're in good hands here so you can rest assured that you'll be guided on how to use the most up to date approach to socializing and training your puppy.
The group puppy classes here aim to make the absolute most out of your puppy's development stages. For baby puppies there's Elements of Puppy Socialization classes while senior pups can sign up for Puppy Foundations: Manners & Life Skills classes.
Puppy 101
$25 | ONLINE COURSE
PREREQUISITE TO PUPPY ELEMENTS
Before attending their first Puppy Elements: Socialization class every family must complete the Puppy 101 Intro & Socialization lessons from Puppy 101.
Puppy 101 covers potty training, puppy biting, socialization, and a general introduction to raising and training your puppy.
When possible families are encouraged to complete Puppy 101 before they bring their puppy home.
Puppy Elements: Socialization
$40 |
75 MINUTE CLASS
SUN 5:30PM Or TUE 5:30pm
Start your puppy's life off on the right paw with Elements classes. One thing experts agree on is that the first priority for all puppies is socialization. 
Maybe you've heard this already, but what does it truly mean to "socialize" your puppy and why do we do it? First off, socializing your puppy can make the difference between a confident friendly adult dog and an anxious or even aggressive adult dog.
Did you know that socialization's not just about people and other dogs? Did you know that real socialization also means that your puppy is introduced to new sounds, surfaces, objects, and overall a variety of life experiences? Did you know that puppies have a sensitive period for socialization where they are primed to get the most out of these kinds of adventures and that window closes between 12 – 16 weeks old?!
These classes aim to make the most out of this crucial development stage with not only puppy playtime, but introductions to new sounds, surfaces, objects, equipment and more! 
We also introduce you and your puppy to the first steps in obedience behaviours like sit, down, leash walking, and coming when called.
* There are 4 unique Elements classes and your puppy is encouraged to attend as many as possible before 16 weeks old.  Enrollment is ongoing. Start as soon as you've completed Puppy 101 Intro & Socialization lessons. Attending once a week for 4 consecutive weeks will ensure your puppy experiences all 4 classes.
* Puppies may start as early as 1 week past their first vaccinations and must be under 16 weeks.  Read the FAQs for more info.
Get the Total Puppy Package and save!
Includes enrolment into Puppy 101 plus credits for 4 Puppy Elements classes!
Perfect for puppies 12 weeks and under. We recommend attending once weekly until your puppy is 16 weeks old.
Puppy Foundations

Manners & Life Skills
$85 for CANINE FOUNDATIONS ONLINE
+ $220 FOR 6 COACHING SESSIONS
After your puppy's socialization window has closed it's time to focus on their manners and help them master everyday life skills.
These classes build the communication between you and your puppy that will help you solidify your bond.
Together you'll work on building foundational behaviours like Settling on a Mat, Sit/Down, Leave It, Loose Leash Walking, and Coming When Called, plus learn the basics of troubleshooting common unwanted behaviours.
The instructional part of this course has moved online and is now CANINE FOUNDATIONS. Families that are happy to work independently can get all the awesome content from the original Puppy Foundations course all in the comfort of their home for a fraction of the cost. Those that still would like in-person coaching can sign up for 6 weekly group coaching sessions (optional).
Puppies have the opportunity to work near other dogs and learn to focus with dog distractions during group coaching sessions but there is no off leash play time.
New skills are no longer taught in-person so for success in the group coaching sessions it's crucial that families are following along at home with the Canine Foundations course to learn the skills for the week and begin practicing before their class. Group coaching sessions are an excellent opportunity to ask questions and get feedback while you and your puppy work to master their skills in a distracting environment.
* Puppies must be at least 4 months old and fully vaccinated to attend in person coaching sessions, but may be up to 10 months old. 
Puppy Elements Classes in Action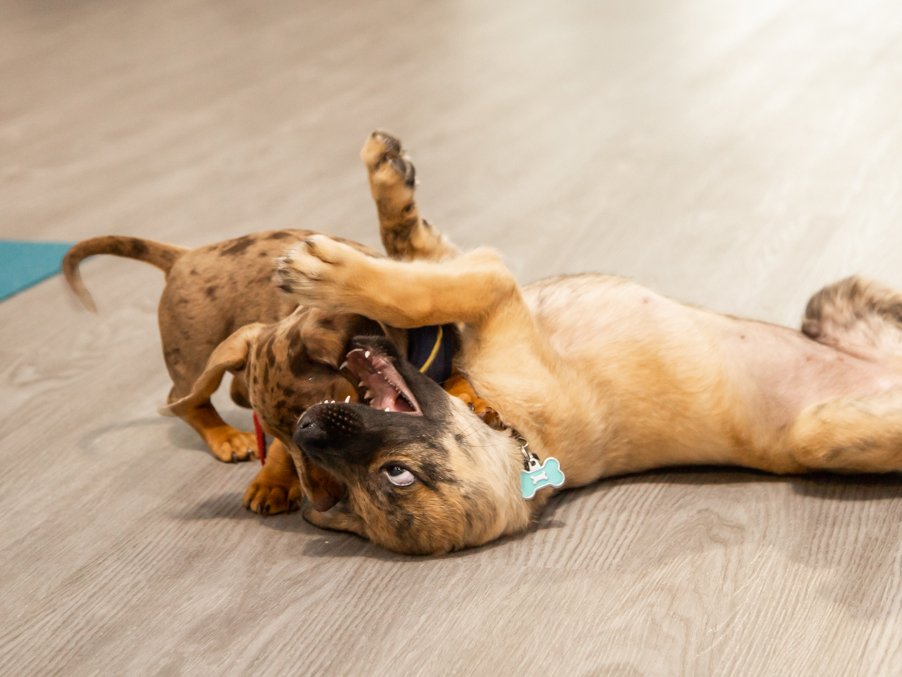 Our Facility
#5 - 6322 202 St
Langley, BC