Puppy Training
Baby Puppies: 8 – 16 weeks
Raising a puppy can be a big challenge but with Extraordinary Canines you'll be off to a great start so you can take advantage of this precious time. You can rest assured that you'll be guided on how to use the most up to date approach to socializing and training your puppy.
Our group puppy socialization classes which we call "Puppy Elements" aim to make the absolute most out of your puppy's sensitive period for socialization. 
One thing experts agree on is that the first priority for all puppies is socialization. 
What does it truly mean to "socialize" your puppy and why do we do it? Socializing your puppy can be the difference between them developing into a confident friendly adult dog or an anxious or even aggressive adult dog. While your puppy's genetics and time with their breeder/rescue will play an important part in their temperament and personality, studies show that socialization can have a big positive impact on how a dog matures.
Did you know that socialization is NOT just about meeting people and other dogs? Meeting other dogs is actually one of the least important pieces of socialization! Real socialization means that your puppy is introduced to new sounds, surfaces, objects, and overall a variety of life experiences.
Did you know that puppies have a sensitive period for socialization where they are primed to get the most out of these kinds of adventures and that socialization window closes between 12 – 16 weeks old?! That means by the time your puppy is just 12 – 16 weeks old the opportunity to truly socialize them is already over!  The socialization period begins at just 3 weeks old, so we like to get puppies started with classes as soon as they've had a chance to settle into their new home.
Socialization is not just about exposure either; we'll help your puppy build positive associations with new things which will build their confidence so that they are not just tolerating of new experiences, but that new things actually make them happy.
If your puppy is 16 weeks or older, then you'll want to look at our training for senior puppies.
Puppy 101
$25 | ONLINE COURSE
PREREQUISITE TO PUPPY ELEMENTS (SOCIALIZATION CLASSES)
Before attending their first Puppy Elements: Socialization class every family must complete the Puppy 101 Intro & Socialization lessons from Puppy 101.
Puppy 101 covers potty training, puppy biting, socialization, and a general introduction to raising and training your puppy.
When possible families are encouraged to complete Puppy 101 before they bring their puppy home.
Puppy Elements: Socialization Class
know before you enroll
PREREQUISITES:
Before attending their first in-person class families must complete the Introduction and Socialization lessons in our online Puppy 101 course. Each unit also includes a quiz to ensure families understand the content before attendance. These Puppy 101 lessons work as an orientation to ensure that families are starting class off on the right foot. 
AGe/Vaccination REQUIREMENTS:
START ANYTIME – ONGOING ENROLMENT
There are 4 Unique Puppy Elements classes (we call them Fire, Earth, Air, and Water) and the content rotates every week (Sunday & Tuesday class will be the same content).
Families enroll in each class individually and may attend as many or as few classes as they'd like before their puppy is 16 weeks old; our recommendation is to start your puppy at 9 – 12 weeks and attend once a week for 4 consecutive weeks.
Some families start late and attend just however many they can before their puppy "ages out" of classes while other families start early and attend classes 6 or more weeks! 
Puppy Elements: Socialization Class
more details
CLASS VALUE
$40 for each 60 minute class

CLASS SIZE:
Class sizes vary week to week with our "start anytime" approach. We run classes with as few as 2 puppies and as many as 6 puppies.
TRAINER:PUPPY RATIO
We ensure that there is at least one trainer available for every 3 puppies and their families in attendance so that there's plenty of individual attention.
EVERY CLASS INCLUDES:
– Settling on place/focus on family
– 2 off leash puppy play opportunities
– Handling/husbandry exercises
– Object socialization
– Novel surface socialization
– Intro to vet/health equipment
– Agility/fitness activity for confidence building
– Sound socialization

Our baby puppy classes do not include training on tricks or manners (aka 'obedience'). These things are the focus of our Foundations classes for Senior/Teen puppies. Families that would like to start on life skills and manners training can sign up for the online Canine Foundations classes at any time. We offer in person Puppy Foundations coaching sessions which are available after the puppy has completed all of their vaccinations.
Puppy Elements: Class Schedule
Puppy Elements classes are scheduled twice every week. Usually every Sunday at 5:45pm with some variation due to holidays or special events. You can see the specific schedule when you enroll.
We have a rolling curriculum of 4 unique classes which rotate each week. You can see the upcoming "Elements" below. 
Get the 4 Elements Puppy Package and save!
Includes enrolment into Puppy 101 plus credits for 4 Puppy Elements classes!
Perfect for puppies 12 weeks and under. We recommend attending once weekly until your puppy is 16 weeks old.
Enroll in

Puppy 101
$25 for 1 Year Access to the Online Course
Schedule

Puppy Elements Class
$40 per class
Puppy Elements Classes in Action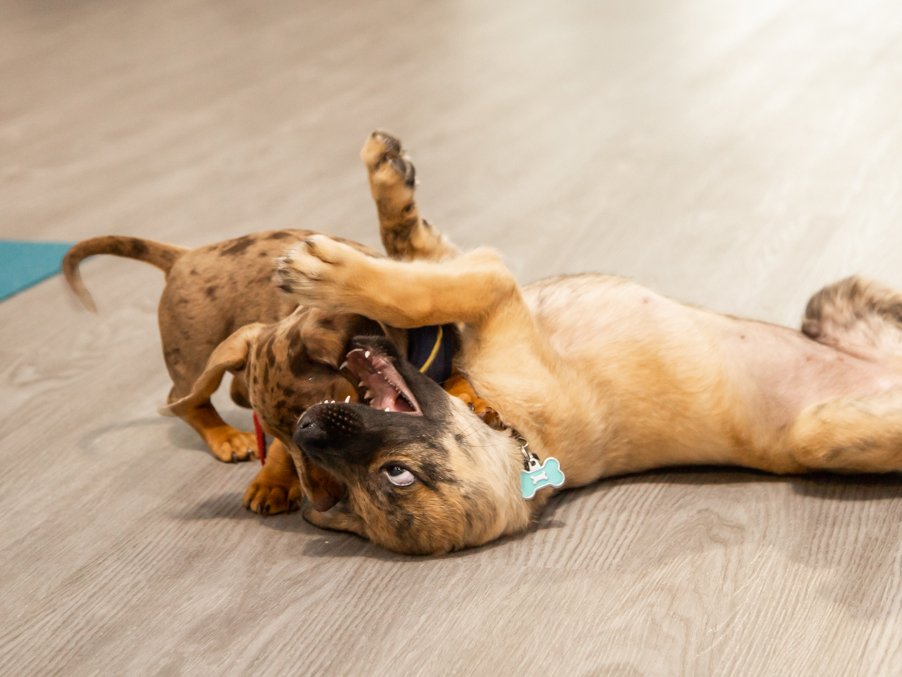 Our Facility
#106 - 5968 205A St
Langley, BC